The Quality Roofing Services team provides premier commercial and residential roofing services for the entire Southeastern FL region.
Call Today! for a no obligation hassel-free price quote.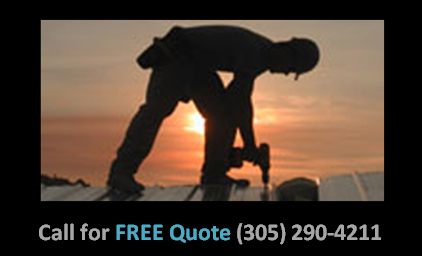 FREE Estimates – Fully Insured – Full Warranty – Locally Owned Business
The roofing system is an essential component of your home or business, so no compromise can be afforded on the quality of materials used or carelessness resulting in faulty roof design. Keeping in view these factors, we are an easy choice to cater to all of your roofing needs with the best roofing materials coupled with a team of skilled professionals. When it comes to roofing, Quality Miami Roofing stays true to its name in providing high quality and unmatched roofing services to homeowners and commercial business owners covering the entire SE Florida's roofing contractor needs.
With state-of-the-art design, repair and installation systems, we guarantee top-notch performance in terms of lasting value and exceptional results for roofing Fort Lauderdale or Palm Beach homes as well as superior protection, be it from sun, wind, rain or the numerous storms that are the norm here in South Florida.
Our extensive experience of Southeast Florida residents and commercial business clients has helped us develop a favorable reputation by meeting the high quality expectations of residential and commercial property owners, along with providing outstanding customer service.
Residential Roofing

Our efficient and dedicated team of roofers are at your service to repair any kind of roof leaks or even for complete restoration and repair of old roofs, replacing them with brand new ones.
Commercial Roofing

Our expertise and long-standing experience of commercial roofing make Quality Miami Roofing an ideal choice, providing commercial roof restoration, repairs as well as installation services on projects of different sizes.
Industrial Roofing
With skilled and qualified roofing specialists at your disposal to assist you in industrial roofing matters and provide installation, repairing and restoration services for all Miami roofing structures, you can rest assured that your work will be completed on time, conforming to the highest quality standards.
Included in our services is a clearly written estimate along with a written production schedule for the purpose of proper understanding and clarity that leaves no room for ambiguity. We believe in keeping our sites neat and clean and undertake efforts to stand out from the rest in delivering improved customer experience.
What We Promise, We Deliver
Our team at Quality Miami Roofing boasts years of extensive roofing experience involving repair and replacement of different-styled roofs and working with asphalt shingles, metal, tile, built-up and single-ply membrane roofs, placing us among just a handful of companies that offer such a wide range of services for roofing Miami residential and commercial properties.
One facet that we focus on, is time sensitivity in completing a roofing project. In case of roof leakages, damage by storm or even simple restoration of an old roof, we do whatever it takes to avoid further damages to your roof and restore its protective features.

"Providing Quality Solutions to All of Your Roofing Needs" 

Contact Us – we offer a variety of warranties on our work. To schedule a free estimate, roofing repairs or installation work, call us today!

Major SE Florida Cities We Sevice Include: Miami – Fort Lauderdale – Pompano Beach – Boca Raton – West Palm Beach roof cleaning – Miami Beach – Hialeah – Hollywood | Central Florida – Orlando Roof Cleaning  – http://cflpressurewashing.com – Commercial Roof Cleaning Daytona Beach